iCrowdNewswire Dec 30, 2020 7:33 AM ET
Whether it's a warm summer's morning, a fresh spring afternoon, or a crisp but pleasant wintry night, it's always tempting to step outdoors and take in the pleasantries offered by mother nature. Except…when it's too hot, too windy, overly pollinated and dusty, raining or snowing. Well, that leaves you pretty much trapped indoors with no hope of ever enjoying the outdoors?
Not really! With today's cutting-edge retractable screens for windows and doors, you can enjoy everything the outdoors has to offer…while still sheltering indoors. And, for those of us enjoying life outdoors, these screens still allow us to keep our windows and doors open to let in light, fresh air, and glorious sunshine.
Retractable Door and Window Screens
The most effective way to enjoy the outdoors – from either indoors or outside – is to ensure an equitable balance between your indoor environment and the outdoors. And, the only way to achieve that balance is to install screens on your doors and windows:
– Keep dust, pollen, and particles outside
– Let fresh air indoors
– Prevent outdoor insects and pests from entering indoors
– Allow pleasant sunshine indoors, while keeping the harmful UV effects at bay
– Enjoy healthy daylight without worrying about wind and dust outside
Today's door screens are made from durable materials that are sturdy and long-lasting. The specially constructed mesh allows light and air to flow indoors while filtering harmful elements of the outdoors. The result? People enjoying the outdoors – outside – don't have to stress about any harm to the indoors. People enjoying the outdoors – indoors – never stress about opening, closing, or manning doors and windows. It's a win-win for everyone!
Screening French Doors and Windows – Special Challenges
French doors (and windows) are…well, "French-like" – they require extra-special TLC. That's why retractable screens for French doors create a unique set of challenges. French doors are typically a good choice in homes and businesses that have patios or large balconies. Unlike regular doors and windows, French doors/windows are constructed differently – they are designed with multiple horizontal panels, either wooden or glass, separated from one another. And that's what gives them their beauty and elegance.
French doors operate either as in-swing or out-swing. At times, home/business owners might want to open one, and not the other door, which adds to the challenge in screening French windows too! So, how do we get around such challenges?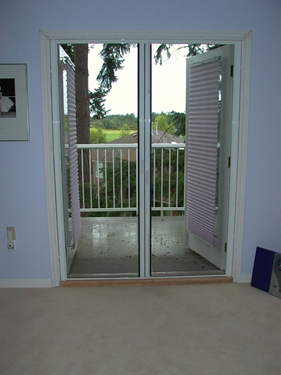 Well, we use especially-designed retractable door screens which may be installed either on the inside or the outside of the door, catering to both in and out swing doors. We've designed our M41 model as a low-profile system with larger extrusions. This provides greater durability and delivers a sturdier frame that withstands even the heaviest of traffic and is ideal for rigorous and frequent use.
Screen Your Screen Supplier
To ensure you receive value for money, it's as important to choose the right supplier for all your retractable screens as it is to choose the right screen. Look for someone that's been around for over 100-years and not a fly-by-night operator. Having a manufacturer with experience in international and North American markets is a plus. Most importantly, choosing a supplier that can offer custom door screens, retractable screening solutions, and motorized screens offers you greater choice and flexibility in making the right screening decision.
---