iCrowdNewswire Feb 24, 2021 3:00 PM ET
Remember the days when you hopped from graphics designer to screen printer, and from there to a clothes designer, and then to a T-shirt manufacturer…and finally got your customized Tee produced? Well, those days are long gone! Today, forward-looking companies have turned the producing of custom printed t shirts into an art form. The best thing about these digitally-inspired creations: Your vision comes alive right before your eyes – from the comfort of your own home!
Unleash the Creative Streak in You
Thanks to the ingenuity of digital technology, garment manufacturers have empowered thousands of individuals, small business owners and corporate staff to see a branding campaign from vision to fruition. You, the customer, are the visionary, the artist, the designer and creator of the garment. And it all happens with the help of uber-east-to-use Design Studio software.
Replacing the multi-step process of creating sweaters, tank tops, hoodies, tote bags and printed t shirts, with this new point-and-click, drag-and-drop technology is a win-win for everyone. You are in complete command of the design process; and the garment manufacturer doesn't have to assume what you want. They simply print your creations and bring them to life.
3-Steps from Concept to Finish
Whether you want a single t shirt for your personal use, or whether you are planning a large corporate event needing 100's of Tees – the process is just as simple and quick:
Choose the product you need from a vast online selection
Customize your design with your own art or by uploading images and text
Check-out and place your order
I needed a batch of custom printed t shirts for an online charity event I was hosting recently. So, I created my "Thumbs-up" masterpiece (see screenshot below) in under 7-minutes!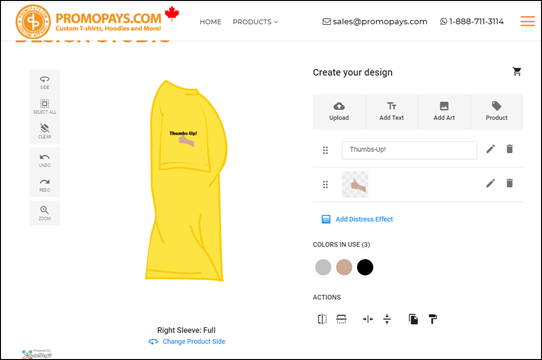 The process is simple. The Design Studio is clean and non-cluttered and very intuitive to use. If you have a design in mind, play with several iterations and see how they look onscreen. Don't like the placement – move it from the right sleeve to the front. Want additional images on the back – with branding text and marketing slogans to deliver your message – go for it!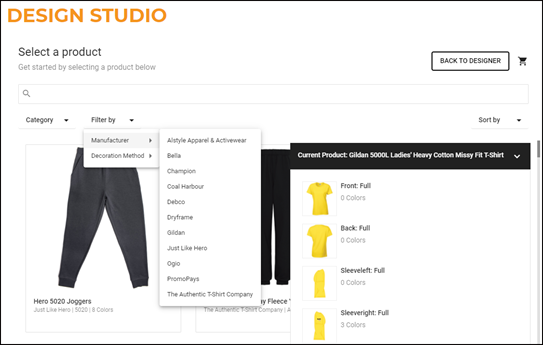 Promo Pays isn't really a garment manufacturer in the traditional sense of the word. It is a provider of a custom apparel solution, where you create branded printed t shirts, complete with digital images and text, in a matter of minutes. You have a wide list of name-brands to choose from – Bella, Debco, Gildan…and more. And, if screen printed Tees and Sweatpants aren't what you want, you can choose to go with embroidery or digital printing. The same easy-to-use tools guide you through the process of creating your masterpiece!
The Dawn of a New Age in Garment Design
There's a revolution in digital garment design, and it's time we all embrace it. Not only are the printed t shirts, sweats and hoodies produced by the process of superior quality; but the whole approach to designing them is novel: You, the client, get to bring your vision for your products to fruition. The silver lining to this new era of garment designing is, it's fast and cost-effective too!
---